Core Transformation Research:
First Randomized Controlled Trial Published in Peer-Reviewed Journal
We are pleased that the first randomized, controlled study on Core Transformation has been published in a major journal. It was published in the July 2019 issue of The Journal of Counseling and Development, authored by Dinesh J. Braganza, Richard M. Gray, et al.
There were many interesting results reported in this study. One that stands out to me is, "… 61% of those who could have had a clinical diagnosis before treatment no longer fell into this category 4 weeks after the CT session."*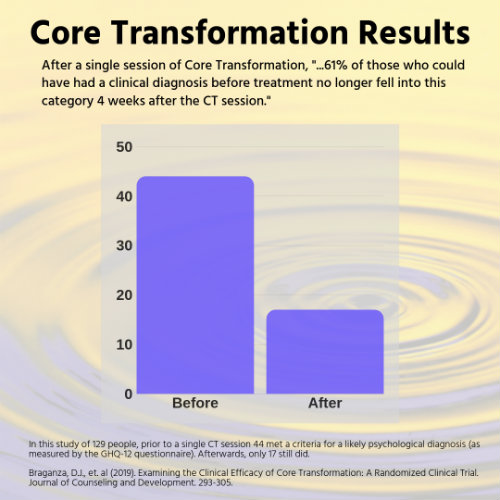 The treatment was just one session. Even with just that Core Transformation already got significant positive results on measures of overall wellbeing and symptom reduction, measured 4 and 8 weeks after the single session. The results were moderate but significant.
While we wouldn't expect a single session of Core Transformation to completely resolve all of a person's problems, this study confirms what we've seen in our trainings, coaching practices, and our own lives: Core Transformation gets results.
A small team of researchers is already working on future studies to measure the effects of multiple sessions of Core Transformation. Our clinical experience suggests that more than one session leads to even stronger results. We look forward to finding out what the research will show.
Want more details? Here's a quote from the article:
The reduction in symptom experience was especially striking because the single CT session produced moderate effect size improvements that were maintained 4 and 8 weeks after the single session, with scores on the Emotional Stability sub-scale demonstrating continued improvement up to 8 weeks after the session.

The changes measured indicate that the CT intervention positively affected a broad spectrum of clinically relevant individual difference measures…, with significant improvements in every category. These improvements indicate that benefits from CT occurred beyond mere symptom resolution and affected wider aspects of the person's life and functioning.
If you want to experience Core Transformation for yourself, come to an upcoming training in Boulder, Colorado.
Participants in our trainings tell us what this study told us too: the benefits from doing Core Transformation go far beyond symptom relief, helping to create a ongoing sense of well-being.